Once the final seconds ticked away at the conclusion of Super Bowl LIII, a series of questions rose to greet the Rams before they trudged back to their locker room. Scott McVay's "Boy Wonder" status had been ripped to shreds in a 13-3 loss where the Rams offense couldn't get out of it's own way.
What was the impetus for RB Todd Gurley's diminished role in LIII just as it had been down in the NFC Championship in New Orleans?? Did Gurley really hurt his knee where Rams brass kept it quiet or was it fall out from his appearance on LeBron James' show "The Shop"??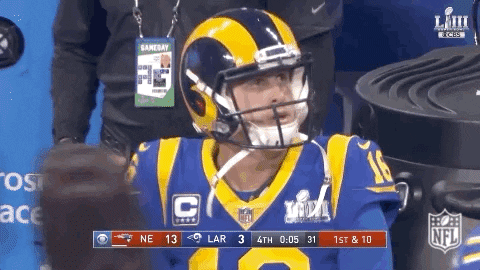 How did the NFL's highest scoring team, averaging 32.9 points per game, wind up tied with the Dolphins of Super Bowl VI with the lowest game total in S.B. history with 3 points?? Have McVay and Jared Goff recovered from being dominated in a world championship game when all eyes were on them??
When you lose a Super Bowl all questions rise to the surface and no team recent memory has as much to answer to than the defending NFC Champions.
One of the teams they have to stave off to repeat as NFC West champions is the #1 rushing attack of Seattle. Pete Carroll's 3 headed monster, Chris Carson (1,141 rush yds), Mike Davis (514 yds) & Rashad Penny (420 yds) combined for 15TDs while averaging 4.7 yards per rush. Their combined 2,084 yards running established attitude and tone the Seahawks hadn't seen since Marshawn Lynch. With Penny coming on at the end of the season it's hard to see this group along with the front line not becoming the bellwether focal point of a young ball club.
2019 NFC West Predictions
Seattle Seahawks 11-5 *
Los Angeles Rams 9-7**
San Francisco 49ers 6-10
Arizona Cardinals 4-12
Pete Carroll's team finished winning 6 of their last 7 and was the most solid NFC team coming down the stretch. Now they add the 4.3 speed and size of 2nd round draft pick DK Metcalf to bolster a receiver group in flux. He has the size and speed to become the 1st #1 receiver in Russell Wilson's tenure. For the 1st time this team will be known for their offensive strength and rely on timely defense vs an overpowering one.
Eventually 49er QB Jimmy Garoppolo was going to have to hit the field and earn his large contract. Truth be told he struggled at the beginning of last year which should be the case at the start of 2019. He hasn't played against live fire in nearly a year. Fan favorite backup Nick Mullens will have a chance to wrest a few starts from Garoppolo if this team starts 0-3 with a bye in the 4th week.
However the 49ers have bolstered their defense with the signing of free agent LB Kwon Alexander,1st round draft pick Joey Bosa and acquiring DE Dee Ford along with former Raider and Seahawk LB Malcolm Smith. The 49ers should have one of the better defenses in the NFC. It will make for closer games however the Niner offense lacks explosion so they'll keep games close but…
The Niners running by committee and lack of explosive playmakers on offense will short circuit efforts early in the season. They'll win a few ugly games late. Keep in mind this team was 1-5 in the division last year. They have to establish themselves here.
In Tinsletown the Rams are ready to bounce back from their Super Bowl meltdown… however we need to find out about Todd Gurley first. Last year Gurley was one of the best weapons in the NFL yet something happened. On Dec 2nd, Gurley rushed for 132 yds on 23 carries and 2 scores and was the big strike RB earning his $57 million contract. Two days later he appeared on Lebron James show "The Shop" where James famously made the comment "NFL owners had a plantation mentality" and all of a sudden we didn't see him carrying the football.
In the last 4 games of the season he had 11, 12, 0, and 0 carries to finish the season. Interestingly in the wild card win over Dallas he burst for 115 yards on 16 carries yet played 2nd fiddle to CJ Anderson's 123 yards on 23 carries and 2 scores. Then back in hibernation mode with 4 attempts for 10 yards in the NFC Championship Game and 10 carries for 35 yards in the Super Bowl. Hmmmmmm?? OK
Well there was some fudging with the injury report with an arthritic knee unofficially we learned leading up to the Super Bowl yet it wasn't reported. Another theory is Gurley was silenced and pulled out of the lineup for the appearance on The Shop… it came at the height of the national anthem debate and in the black community we spoke of it on social media and in the blogosphere. He didn't defend ownership or give a rebuttal to the "slave mentality" comment and we won't know for some time.
Either way Gurley and the Rams have to deal with the psychological fallout from this and the Super Bowl flameout or a star running back with an arthritic knee. For one who relies on jump cuts and option routes on LBs and Nickel backs in the passing game, this is a problem and he could be worn down by week 12.
We're waiting to see how Jared Goff bounces back from the Super Bowl. Goff enjoyed a Pro Bowl year completing 364 of 561 passes for 4,688 yards and 32 scores. Yet he only threw for 1 TD in 3 postseason games and didn't throw for more than 300 yards in any of the 3. In this copycat league teams will follow what the Patriots did and disguise their coverages then shift into a new look when the play clock gets down to :15. This is when Sean McVay can no longer speak to him in his helmet speaker. He HAS to be able to audible and move his offense into different formations to beat defenses on his own and not just rely on presnap play design.
Keep in mind as NFC Champs they are going to get everyone's best shot and this team was only 3-3 against playoff teams in the regular season. If the Rams can start fast they won't have to deal with all these items discussed except Taylor Blitz sees a 3-3 start this year and the talk will begin. They will miss the playoffs in 2019.
Pete Carroll and the Seahawks win the division.
Thanks for reading and please share the article.