Thirteen losses in a row??  Are you kiddin' me?? Hard to believe but from 1983-1997, the AFC lost every Super Bowl and many in decisive fashion.
The NFC's dominance in the Super Bowl had reached an embarrassing level and let's face it the Green Bay Packers were poised to become back to back champions.  Brett Favre, at the height of his powers, having collected his 3rd straight MVP trophy was leading an offense that was stronger than the one that won the Super Bowl the year before.
Dorsey Levens was having a career year in rushing with 1,435 yards.  Reggie White, had former Philadelphia Eagle Seth Joyner join him with Green Bay in a quest to get a ring like White, Sean Jones, Keith Jackson, Andre Rison, Desmond Howard, and Eugene Robinson had the year before.  This team had just run roughshod over the San Francisco 49ers 23-10 in Candlestick to take the NFC Championship…What happened?
First, let's take you back to 1983. The great quarterback class that brought Jim Kelly, John Elway, Dan Marino, Tony Eason, Ken O'Brien, and Todd Blackledge all to the AFC.  From that time on the conference made personnel moves and strategies based on being downfield passing attacks.  Subsequently the teams also geared their defensive personnel to stop that kind of approach.  They had thinner, lankier linemen to pass block and defenders to rush the passer and cover running backs.
Think back to the Patriots DE Garin Veris, Denver's DE Rulon Jones, Dolphins DE's Kim Bokamper, Cleveland's Al "Bubba" Baker. All AFC defensive line prototypes you didn't see in the NFC.
Their less fortunate Earth bound NFC brethren stayed rooted in running the football. They were stouter in the types of linemen they kept and played stronger at the line of scrimmage.  How do we know this?  From 1983-1997 there were really only two running backs that led the NFL in rushing from the AFC: Marcus Allen '85, Eric Dickerson in '88 after being traded from Rams, and Christian Okoye in 1989. In Okoye's case, he carried the ball 90 more times and only outrushed Barry Sanders by 10 yards.  On the last day of the season with Okoye's day completed, Sanders was 10 yards away in a late game with several minutes to go, yet was uninterested in the rushing title.
When you think back to the Super Bowls during the 13 game losing streak, what became apparent was how much more physical the top NFC teams played. They simply overpowered the AFC Champions on the line of scrimmage.  This was the curse of the great quarterback class of 1983. Yes they made it to the top of their conference yet it wasn't a coincidence that they were a combined 0-9 in the Super Bowl during that stretch.  So what did they need to do?  Well…to get John Elway a Super Bowl ring, Denver had to build him an NFC team.
Since the advent of Free Agency in 1993 the physicality of the NFC started to have an effect on the AFC as players switched sides.  The teams were getting more physical by the year and if you look at the 1997 Denver Broncos, a significant number of new players on their roster had come from NFC camps. CB Tim McKyer, LB Bill Romanowski, FB Howard Griffith, WR Ed McCaffrey, OL Mark Schlereth, OL Brian Habib, RB Dereck Loville, and DE Alfred Williams to name a few, had come over to give Denver a stronger more physical team.
They drafted Terrell Davis, a north/south NFC power-type runner more suited to the NFC East than the pre Mike Shanahan Broncos.  The AFC began to change & starting with the '95 Steelers, the AFC Champion arrived much stronger on the front lines than their predecessors in previous Super Bowls.  The inability to control the line of scrimmage is what doomed the AFC in those 13 previous Super Bowls.
Couple that with the sentimental favorite to win it all, John Elway. We forgot that it had been 8 years since Elway was called "The Duke", a nickname of late 80s fame when he had gone to 3 Super Bowls in 4 years.  We kept waiting for THOSE Bronco teams in orange jerseys to show up with a pedestrian running game.
Unfortunately so did the Green Bay Packers who woke up in the second half of Super Bowl XXXII tied 17-17, and were facing Terrell Davis running north and south on them. This brought the linebackers up and allowed Elway to complete several choice seem passes to Ed McCaffrey and Shannon Sharpe which led to the famous diving, helicopter spinning, run of Elway's that told Bronco nation that THIS Super Bowl was going to be different.  Much different!!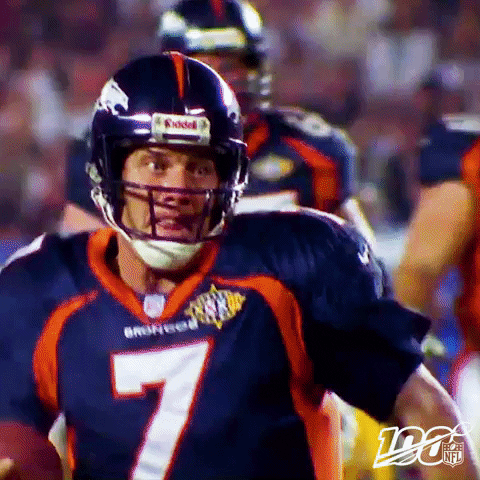 The galvanized Broncos, from that point on were physically punishing the Packers defensive front and Davis controlled the rest of the 3rd quarter and most of the 4th after Brett Favre had driven down to tie it at 24.  Everyone seems to forget that the Broncos were on the verge of blowing out the Packers. After Terrell Davis scored to give the Broncos a 24-17 lead, Tony Veland forced Antonio Freeman to fumble the subsequent kickoff and Tim McKyer recovered at the Packer 17 yard line.  Only Eugene Robinson's timely interception at the goal line kept Green Bay in it.
As for Howard Griffith, the fullback who led Terrell Davis into the endzone on his 3 TD runs, go back and look at his blocking in that 4th quarter on that last drive.  Go back and watch on one play where not only did Griffith block two different Packers on a sweep to the left but WR Ed McCaffrey absolutely "de-cleat" Packer linebacker Brian Williams as Davis ran for a big first down that demoralized the Packer defense. Why do I say this?  This was the point that Green Bay realized their defense was dead.  The next play after Davis went left (again) thru a gaping hole for 17 yards to the 1 yard line, Coach Holmgren told the defense to "let them score" knowing they were powerless and give Favre some time.  Denver held them on downs and the celebration began.
To win "This one's for John", Denver Bronco's first Super Bowl triumph, they had to build Elway an NFC team to do it.  They played and looked like the Giants, Redskins, and 49ers that had manhandled them on the front lines in previous Elway led Super Bowls.
So yeah, Super Bowl XXXII was different, much different.  It actually featured 2 teams from the NFC…just ask the Packers front line…