As we're winding down this series of greatest single season defenses, the first question asked was where did the '13 Seahawks belong in this group??
Do you realize Super Bowl MVP Malcolm Smith not only wasn't a week 1 starter, but isn't guaranteed to be one at Outside Linebacker for 2014?? He replaced  KJ Wright #50 who had been injured. Its the depth and lack of drop off in production that makes this group great. They ranked #1 and were led by The Legion of Boom secondary which boasts 3 Pro Bowl Players.
Starting with defending Taylor Blitz Times Defensive Player of the Year Richard Sherman, who led the NFL with 8 interceptions. He returned those for 158 yards and a significant week 4 touchdown. He also was 7th on the team in tackles with 48, defensed 17 passes and recovered 2 fumbles.
By the time you add Pro Bowl FS Earl Thomas (105 tackles/ 5 ints/ 11 pass defensed/ 2 forced fumbles) & the thunderous shots by Pro Bowl SS Kam Chancellor (99 tackles / 3 ints/ 12 passes defensed/ 1 forced fumble) you have one of the best secondaries in history. That's what a championship can elevate you to. Three of four in the secondary made the Pro Bowl.
This group was #1 overall (273.6 ypg.) while finishing #1 against the pass allowing 172 yards per game. Those stats were 28 and 22 ypg. better than the defenses ranked 2nd. Quarterbacks finished with a 63.4 rating in a modern game where the rules have been altered to favor the pass. How does that rank against other great defenses??
2013 Seahawks passer rating allowed 63.4
1985 Chicago Bears passer rating allowed 51.2
1991 Philadelphia Eagles passer rating allowed 52.1
2000 Baltimore Ravens passer rating allowed 62.5
For the season they held 7 opponents to 10 points or less and one of those was the 4th best offense in football, the New Orleans Saints.  An 8th team held to less than 10 was the record setting #1 offense of the Broncos in the Super Bowl when they could only muster 8 points. The highest scoring team in history with 606 points averaging 37.8 per game, was held scoreless until the last play of the 3rd quarter. By then they were down 36-0.
Before their 43-8 destruction of Denver, they bested Brees and the Saints in the playoffs were they held them to 15 points as well.  They did lose to one Pro Bowl quarterback in Andrew Luck but that is offset by shutting down the 5,477 yards and 55 TD record setting Peyton Manning in Super Bowl XLVIII. So 3-1 against Pro Bowl QBs and holding 2 of them to less than 10 points is strong defensive football. Keep in mind the defense was missing CB Brandon Browner (suspension) and LB KJ Wright (injury) or the Broncos may have been shut out.
By the time we get to the pass rush of Cliff Avril (8.5 sacks) and Michael Bennett(8 sacks) rushing side by side from the strong side, this group plays front 7 by committee. Utilizing blitzes they garnered 44 sacks while surrendering an NFL best 231 points. In contrast the 1971 Dallas Cowboys who won Super Bowl VI or the Doomsday Defense gave up 222 in 14 games.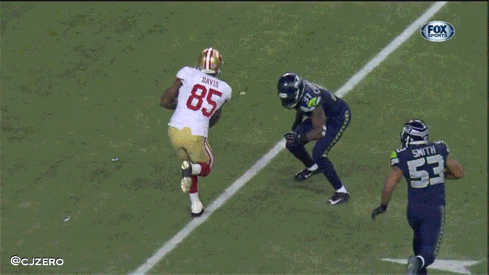 So yes The Legion of Boom belongs on this list. To do it in the modern NFL where if you sneeze near a receiver it's a penalty, they gave a world class performance. One of the best in history and #3 on The Chancellor of Football's list.
Thanks for reading and please share the article.