With the NFL's second season upon us we have to look back to the team and players who made the 2018 season. Keep in mind this blog is about defense and the unheralded players appreciated by the rank and file. Yet bookending a season where Taylor Blitz & The Chancellor was there for the induction ceremony for our 1st subject written for the PFHoF in Robert Brazile, it's with great pride to announce the 1st 2 time Taylor Blitz Times Defensive Player of the Year in Chicago Bear Khalil Mack.
Mack bested '17 Taylor Blitz DoY Aaron Donald for this honor based upon his ability to show up in important games and the domino affect he has had on a division and a conference.
Dating back to a 2010 loss to the Green Bay Packers in the NFC Championship, the Bears were 2-12 against them while Aaron Rodgers and company won the NFC North 5 times. The Bears either finished 3rd or last in all 7 of those years.
The Bears trade for Mack and sign him on Sept 2nd and one week later & not in football playing shape introduced himself in week 1 on Sunday Night Football.
Mack dazzled a national audience becoming the 1st defensive player in NFL history to record a tackle, a sack, force a fumble, recover a fumble and return an interception for a touchdown in the same game. On one of his 5 hurries forced Rodgers into a sack that knocked him out for much of the game as the Bears forged to a 20-0 lead in front of a shocked and silenced Lambeau Field. His impact on that game far exceeded his 3 tackles, sack, forced fumble and TD on an interception return. Although they lost 23-22 to their NFC North antagonist, the mantle of dominance shifted to Chicago from Green Bay on that day.
The following week against perennial NFC West force Seattle he terrorized Russell Wilson sacking him once, forced a fumble, 5 tackles and another tackle for loss. Yet with all the attention focused on Mack, the Bears integrated 1st round draft pick Roquan Smith into the lineup and the Bears chased Wilson into 6 sacks. A monster defense was born.
The affect both of these games had on Sunday night in primetime was immense. Not only did Mack infuse confidence and swagger into his team, opposing teams had to adjust their blocking schemes to accommodate him. Where was he lining up?? We even warned in our week 1 preview: All of a sudden the 2016 Taylor Blitz Times Defensive Player of the Year & NFL Defensive Player of the Year lands in an NFC North without a Pro Bowl Tackle and you don't think it will be an issue??
The clincher was another big game where the 9-3 Bears, still battling for respect, hosted the 11-1 Rams and 2017 Taylor Blitz Times Defensive Player of the Year Aaron Donald. Where Donald was neutralized Mack had another 3 tackles, sack and forced fumble as the Rams #2 offense was held to 214 yards and 6 points. By far these were their season lows as the Bears announced they were for real. On two of Jared Goff's 4 interceptions he was hurried by #52.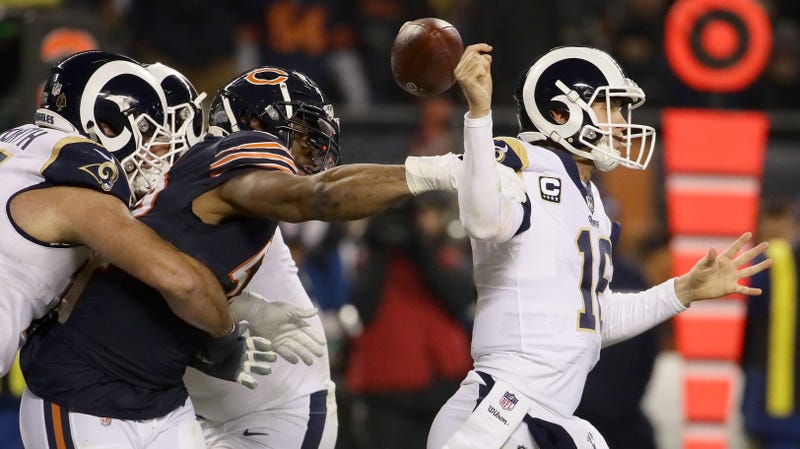 Mack's performance has raised the NFL's 10th ranked defense in 2017 to a ranking of 3rd while garnering 50 sacks. This also ranks 3rd. The Bears won the NFC North for the first time since 2010 and host the defending champion Eagles this weekend. They will do so with a terrorist to come off the corner in Khalil Mack.
For good measure the Bears won the NFC North with a 24-17 win over Green Bay in front of a frenzied Soldier Field. Mack had 6 tackles and 2.5 sacks as the Bears eliminated the Packers from the playoffs and soon after fired Coach Mike McCarthy. The changing of the guard was complete.
Mack finished with 47 tackles, 10 for loss, 6 forced fumbles, 4 recoveries and an interception for a touchdown. His best performances came against Chicago's superior competition where Aaron Donald disappeared in games the Rams lost.
Taylor Blitz Times Defensive Player of the Year recipients:
2011 -D'Qwell Jackson: Cleveland Browns – Recorded 158 total tackles (115 solo) 3.5 sacks, 1 forced fumble with 2 recoveries and garnered 1 interception as the only light on a 4-12 team. The Browns were in the top ten defensively all year and finished 10th.
2012 –Navorro Bowman: San Francisco 49ers – Garnered 148 total tackles (98 solo) 2 sacks, 6 passes defensed, and 1 interception with a fumble forced. Was an All Pro force who outperformed his more celebrated All Pro teammate Patrick Willis. Starred on the NFL's #3 defense and made the play of the year knocking down a 4th down pass to Roddy White on the last play of the NFC Championship Game. Sent the Niners to the Super Bowl.
2013 – Richard Sherman: Seattle Seahawks – He led the NFL with 8 interceptions, returning them for 158 yards and a week 4 TD against Houston that turned their season around. He also had 48 tackles, defensed 17 passes, recovered 2 fumbles and tipped Colin Kaepernick's desperation throw into the game clinching interception in the NFC Championship Game.
2014 – J.J. Watt: Houston Texans – One of the greatest defensive performances ever with 78 tackles, led the league with 20.5 sacks, 4 forced fumbles, 5 recoveries returning 1 for a touchdown. Then had 1 interception returned 80 yards for his 2nd defensive touchdown. He drug a rebuilding Texan team to within a game of making the  playoffs with a 9-7 record in Bill O'Brien's rookie season. May have been the greatest season by a defender in NFL history.
2015 – Thomas Davis: Carolina Panthers – The 6th best defense in 2015 & made it to Super Bowl L where Davis played with a plate in his broken arm just 2 weeks after the original injury. Toughness aside he garnered 105 total tackles (75 solo) 5.5 sacks, 4 forced fumbles, 4 interceptions, and 2 fumble recoveries. Although his teammate Luke Kuechly garnered national media attention, the 4 additional sacks and 2 more forced fumble won Davis the Taylor Blitz Times Defensive Player of the Year Award.
2016 – Khalil Mack – Mack's season has been transcendent as he collected 55 tackles (46 solo) 11 sacks with 5 forced fumbles. He's recovered 3, returning 1 for a touchdown before we remind you he has 1 pick for another touchdown that also came in the win over Carolina. These are huge impact plays that decide contests not innocuous stats in the middle of a game without meaning or context. In the last 2 seasons he has 14 sacks that have come in the 3rd & 4th quarter of games.
2017 – Aaron Donald – Despite missing 2 games, Donald forced 5 fumbles in his 11.5 sacks and had 15 tackles for loss. Keep in mind he held out all of the preseason awaiting a new contract. Imagine had he been in game shape in week one??
Congratulations to Khalil Mack and his Bears have a big game with Philadelphia tomorrow… will he have another big game performance himself??
Thanks for reading and please share the article.